GRAPHIC DESIGN WORLD OF A COLOR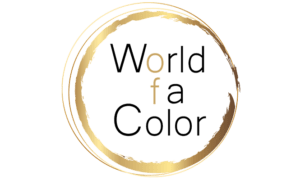 World of a Color is a group of Romanian artists gathered under one brand and one image in order to promote beauty, art and nobility.
World of a Color proposes, through much work and infinite dedication, to value and value the works of artists at the level of priceless jewelry, at the level of pearl jewelry, which gives birth to romance and elegance in any decor, loaded with vintage perfume from the time of kings and queens.
In the design of this logo we used round elements. The inner circle is the "stain of color" of this logo, due to the effect applied to make it look like it was painted with a brush.
The golden round shapes behind it represent its shadow giving it the movement effect. To highlight the importance of the brand, we used a golden lighting effect.
The font is thin and straight to avoid excessive loading of the logo with too many elements.