We offer app development services for mobile devices such as Android and iOS, web applications such as portals, marketplaces or ERP systems and desktop applications for Windows and MacOS.
We provide you with everything you need to grow your business and automate all your internal processes. In our hands, your business will run smoothly and your customers will reach a new level of satisfaction.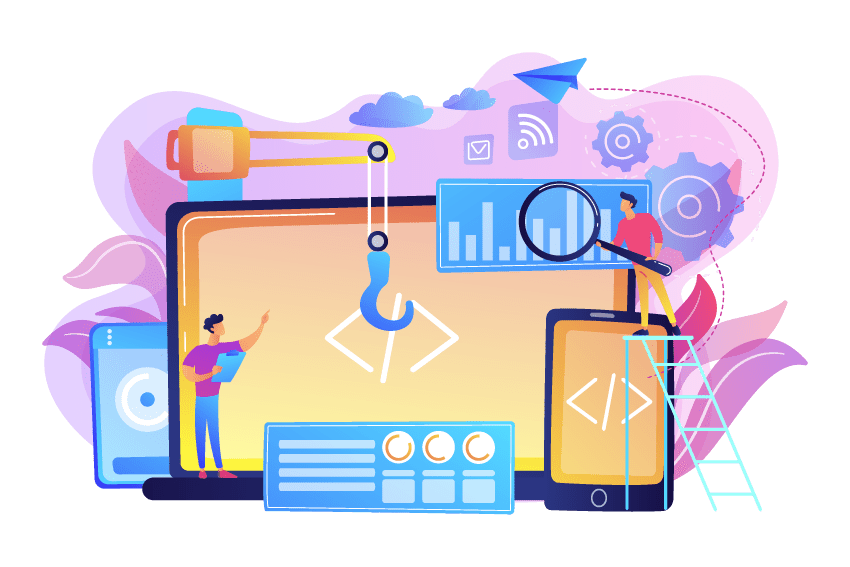 WHAT IS THE PROCESS
APP DEVELOPMENT
PLANNING
We study what your needs are and how we should build the app.
1
APP DEVELOPMENT
We develop the application taking into account all your indications and needs.
2
TESTING
After the application is completed, we make sure that it is tested, functional and does not contain any errors.
3
LAUNCH
After testing is completed, the product is released / delivered for use.
4
MAINTENANCE
It's an important step in making sure your app is running at peak efficiency all the time.
5
We develop applications or a system of customized applications for you. We offer application development services both for mobile operating systems, Android and iOS, as well as desktop and web.
We develop custom software applications to help you save time and money. Through our software development services, we offer you the ideal product for your needs. Whether you want to use it for your business, or sell it further, we make sure your vision materializes into the perfect product.
Our approach involves the analysis of your needs, respectively of the end user. We develop the software application from the ground up using industry standards to be perfectly tailored to your needs. We test the app on a multitude of devices, so you don't encounter any problems.
We offer web application development services for internal use. These can be invoicing programs, cost monitoring, delivery, timekeeping, live communication applications, inventory management or even for controlling other platforms. We integrate the developed application with any tool or database you need.
We also offer commercial web development services. For when you want to create a portal or platform intended for the public, such as Facebook. We integrate the platform with a variety of external services such as social networks.
Mobile Development

Web Development

Desktop Desktop Developemnt

Management and commerce applications

We integrate external or internal services

E-learning applications

Payment processor integration

Automations and Notifications

Collaborative systems and methods

Advanced security systems

Versatility and scalability

Modular systems that can be expanded
CATEGORIES OF
APP DEVELOPMENT
HOW MUCH DOES AN APPLICATION COST?
Learn about the cost of developing an app, using our advanced tool.
Thanks, we will contact you soon.