Everybody knows that retail stores are a good business, no matter what you sell; there will always be people near you willing to buy your products or services. But a retail store is limited to its geographical location. If you want to go global, there are no limits to the internet.
We can help you design and develop an end-to-end online shop to streamline communication, automate workflow, manage high volume transactions, user management and authentication, data and content management, shopping cart applications, and payment gateway integration.
magazin online, online shop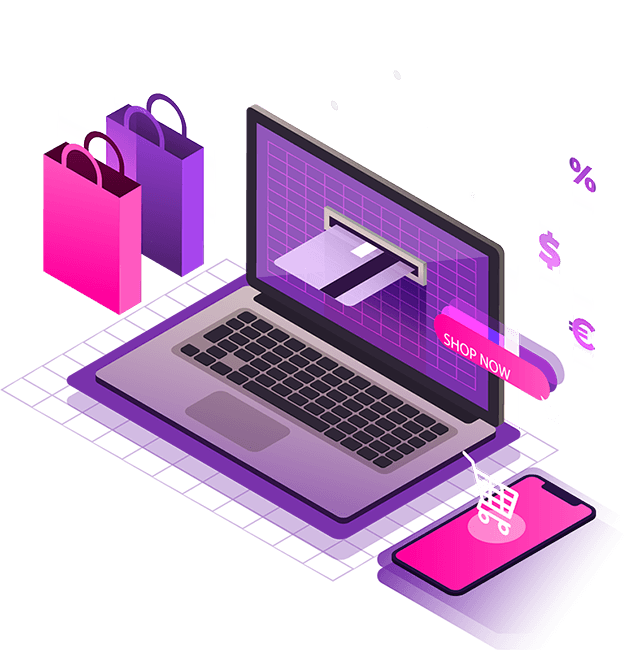 We offer you seriousness and trust. What we talk about remains fixed and there are no hidden costs. We advise you on the content and surprise you through web design. Your ideas and wishes come alive! We are very flexible. Any desire you have for design can be accomplished. We use technology without limits, so even the most non-conventional settlements can be made and viewed from any device!
We will develop your online shop with everything you need to sell your products and services successfully! Our services are also available outside the development process to get all the elements of success such as: SEO Optimization, Branding and Digital Marketing, Email Marketing Campaigns, Search Engines and Social Media Marketing. Together, we will create an online shop for your business!
Our experience is at your disposal. Do not hesitate to ask us whenever you have a question. We are here for you and your brand. Starting this journey together, assure your website all the strengths of success.
Shopping cart where users can add products

Order history, shipping status, wishlist creation

Secure checkout with 128-bit SSL encryption

Gift wrapping option and gift card messages

Search Engine Optimized with SEO friendly links and sitemaps

Anonymous, one-page checkout to help improve conversions

Offer coupons, discount codes, and gift certificates

Custom attribute options for products, like color and weight selections

Integration with PayPal and over 20 other payment gateways

Sales reporting that can be exported to spreadsheet formats

Stock and inventory management

Add and edit product pricing and descriptions with ease

Courier integration

Sorting and filtering systems
HOW MUCH DOES A WEBSITE COST?
Learn about the cost of developing a website, using our advanced tool.
Thanks, we will contact you soon.