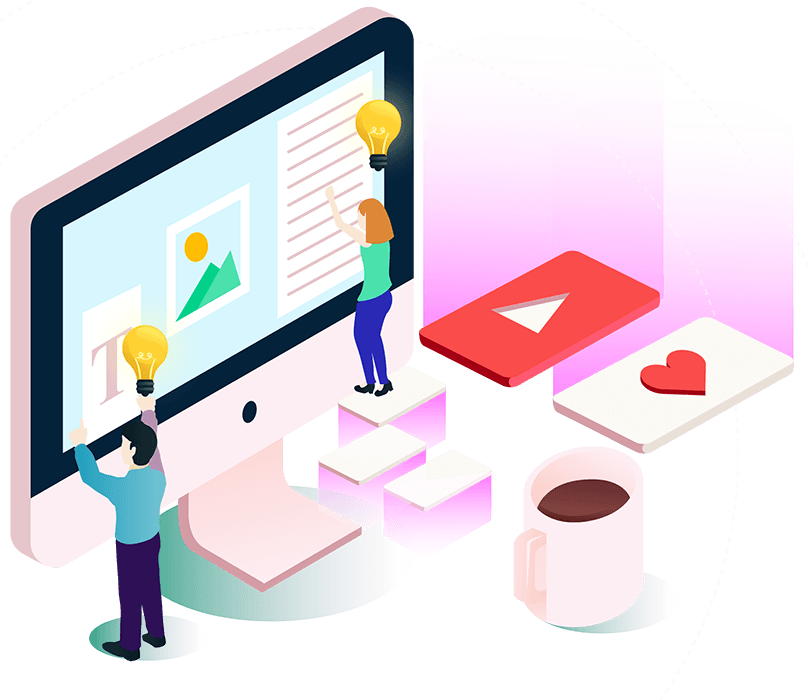 WE OFFER
WORDPRESS DESIGN
Why WordPress? A content management system (CMS), is a tool that allows you manage the content of your website independently.
We use WordPress because it helps us to create your website more quickly and efficiently. So you get the same quality Web Design services in a much shorter time. SEO maintenance and optimization are flower-to-ear using WordPress. You'll even be able to add content to your WordPress blog.
WHAT IS
THE DESIGN PROCESS
STRATEGY
We meet, discuss, set goals and listen to all your ideas and desires.
WEB DESIGN
We start with some design sketches for your website and next to you, we define a concept.
DEVELOPMENT
We match your wishes with the latest design standards to give birth to the perfect website.
LAUNCH and MAINTENANCE
We launch the website and provide you with a maintenance plan to ensure success and maintain efficiency.
WordPress oferă viteză, flexibilitate și ușurință de utilizare. WordPress este o călătorie în lumea web. Iar noi suntem ghizii tăi. Îți instalăm, configurăm și personalizăm platforma întrunind toate nevoile și dorințele tale.
WordPress este rapid și simplu de folosit. Costurile și timpul de dezvoltare sunt mult mai mici. Poți realiza orice tip de website și îi poți extinde funcționalitatea oricând. Indiferent de nevoile tale, acestă platformă poate fi modificată complet. Dispune de toate uneltele SEO de care ai nevoie pentru a-ți face website-ul cunoscut în web și permite integrare cu rețelele sociale pentru a-l populariza și în social media.
Pe zi ce trece, WordPress este din ce în ce mai mult. Fiind un proiect open-source, comunitatea de dezvoltatori lucrează activ la îmbunătățirea platformei și la extinderea funcționalităților.
HOW MUCH DOES A WEBSITE COST?
Learn about the cost of developing a website, using our advanced tool.
Thanks, we will contact you soon.