FREQUENTLY ASKED
QUESTIONS
We have prepared a list of questions that our clients often ask us. If you have a question, take a look at them. The answer to your question may already be here.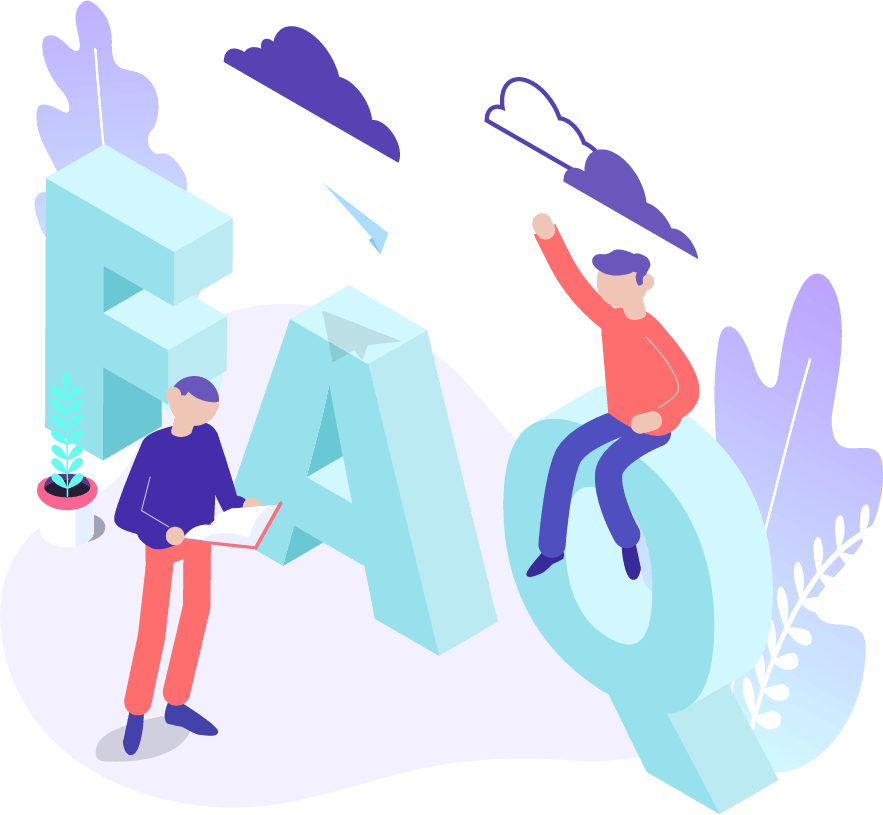 Can I pay in installments?
Yes, depending on the total cost we can cut it into two or more payments, or even a monthly subscription.
What refund policy do you practice?
As these are commissioned works, no refund policy applies. We strictly follow the instructions you give us so that the final result is to your liking.
If I purchase more services, is there a discount?
Categorical! We apply discounts to customers who opt for more than one service or want to develop more projects. And not only that, when purchasing certain packages, there are also free ones.
I want to learn to promote myself, what do you recommend?
Questions About
Web Design
How much does a website cost?
The cost of developing a website depends on the number of pages you want and their complexity. There is no universal cost for any website but we provide you with a tool to get an estimated cost here.
Do you also optimize for mobile?
Yes! In a digital world, we understand very well the need for information to be available regardless of the device.
How long does it take to develop a website?
It depends a lot on the amount of information and the complexity of the design. A presentation website can be ready in 2 weeks, while an online store with 500 products can take up to 3 months.
Do you offer advice in choosing the hosting package and the domain?
We help you choose the right field for your business and we recommend the hosting plan (together with the provider) that your project needs.
Can you integrate apps into the website?
Depending on the nature of the application and the website, yes we can. Whether it's integrating a web application into an existing website or connecting a mobile application to a website developed from scratch.
I have a website but it does not appear in the search pages. What can you do?
First, we audit the website. Then, we make sure it meets all Google standards in terms of On-Page SEO Optimization, Speed, and Adaptability. Once we make sure that all these criteria are met, we start working on the content and expanding the visibility of the website. An important step is online marketing, so we will look for ways to popularize your website both organically and through PPC.
How long does SEO optimization take?
It never stops. SEO optimization is an ongoing process. As the competition progresses, you will want to keep up. Even if you have reached a very high position in the search engines, you will still have to work to keep it.
Content VS Link building
The question is whether it is worth investing only in optimizing content or just building links to your website. The answer is that you need both, but the main priority is the content.
What is SEO optimization? Can a team of web developers fully handle it?
Yes and no. On-Page SEO optimization (details here), involves optimizing the actual content. The text on the website must meet a number of criteria and be present in a certain amount.
So, SEO Optimization is something that is done in collaboration with you or the department that deals with website texts.
After how long do the optimization results appear?
The results of SEO optimization appear after the first 6 months depending on the budget and traffic.
Questions About
Marketing
What is Social Media Marketing?
Social network marketing is a form of internet marketing that combines a variety of social networks to get good communication with potential customers and current customers and to make your business known. This form of marketing consists of activities such as distributing content, videos and images for both advertising and popularization of your brand.
Do you have email databases?
NO! We do not provide databases with email addresses for marketing. We do not even collect these addresses, be they public. Subscriber lists must be obtained legally, ie by knowingly subscribing to the recipient and the right to be forgotten must be respected.
What do you offer in email marketing campaigns?
As part of email marketing campaigns, we ensure the design and sending of emails to the list of subscribers you send us.
PPC or SEO?
SEO is a process that brings long-term benefits. While Pay per Click advertising campaigns bring traffic incentives only as long as the campaign budget. They are very good as regular traffic infusions and website exposure to a new range of customers, but they cannot replace SEO efforts.
Questions About
App Development
How much does an application cost?