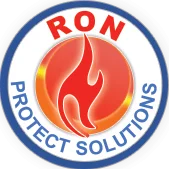 RON Protect Solutions is a private company with Romanian capital that offers integrated services for emergency situations, specialized products and services for preventing and extinguishing fires.
Ron Protect represented the opportunity to do something new and different. Being about emergency situations and products like fire extinguishers, we created a design where we played with shapes and colors.
The goal was to create SEO-optimized pages that offer an attractive and very easy-to-digest design. I used a lot of asymmetric shapes in the design. Triangle shaped backgrounds, pictures grouped in different sizes. Uneven paragraphs. Multi-color icons. Uneven edges and protruding elements.
All this provides a very dynamic design. Although at first glance it seems asymmetrical, overall they come together like puzzle pieces in a website where a lot of content can be added without tiring or becoming a newspaper page.
For extra dynamism, we've added subtle animations to colors, icons, and lists.